Translate in:

Our Group
B. Gopala(M.E. Metallurgy) Gold medal(B.E) from REC Surathkal.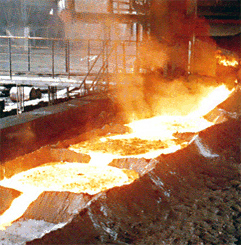 Karthik Group is a multi unit, multi locational and multi product Company manufacturing Ferro Alloys, M. S. Ingots and steel, with its manufacturing units located at Goa, Durgapur and Corporate Office at Hyderabad. We are pleased to inform you, Karthik Alloys is one of the
leading Ferro Alloys manufacturer
in India to produce Special Alloy i.e. Low / Medium Carbon Silico Manganese with its own indigenous technology. All manufacturing units are well versed in all aspects such as experienced staff in fields of Management, Administrative, Production, Marketing, Purchase, Finance & Accounts with latest Laboratory Equipments for total Quality Control.
Ever since our inception, Karthik Group is engaged in manufacturing Ferro Alloys, M. S. Ingots and steel, with its manufacturing plants situated at Goa, Durgapur and Corporate Office at Hyderabad. We are one of the major Ferro Alloys manufacturers in India to manufacture Special Alloy. Our production plants are well facilitated with the required amenities for instance experienced and trained workforce for different domains, such as management, administrative, production, marketing, purchase, finance & accounts, quality control, R&D Wing. Our group comprises of four sisters concern companies, whose business activities and production facilities are briefly described below:
Karthik Alloys Limited.
The prominent company of the group, Karthik Alloys Limited, was incepted in the year 1992 and the plant started full-fledged commercial production during the year 1993 in Goa with a capital outlay of Rs.41.10 millions to produce 5400 metric tonnes of Low/Medium Carbon Silico Manganese. This unit is situated on the Western Coast of India which is close to Marmagoa Ports, therefore it is ideal for exporting our finished products or importing raw material.
Afterwards the second Ferro Alloys unit of the group was set up at Durgapur (Industrial City) in the state of West Bengal with a capital outlay of Rs.70.00 million to produce 18,000 metric tonnes of Low / Medium Carbon Silico Manganese,which has made our total production capacity as 23,400 metric tonnes of low / medium Carbon Silico Manganese.

Karthik Induction
Leveraging on vast domain expertise, Karthik Inductions Ltd. started its commercial production at Kundaim Indl. Estate in the State of Goa during the year 1995. It commenced our business activities to produce 27,600 metric tonnes of Mild Steel Ingots. Additionally, this would be consumed by the secondary steel producers all over the western coast and also southern part of the nation, they utilize it for producing construction steel and TMT bars.
Rukmini Impex
Karthik Rukmini Impex Pvt. Ltd. have become a leading business entity engaged in agency business, trading, import and export business of ferro alloys, steel scrap, non-ferrous scrap & metals. The organization has carved a distinct niche in this highly competitive market, under the able guidance of Mr. B. Gopala, he is solely concentrating on trading, supply, agency and import-export business. He holds good connection and sources in overseas market, which will be the key in procurement of material.
Rukmini Rama
Incorporated in the year 1997, Rukminirama Steel Rollings Pvt. Ltd. has made quite significant progress, compared with the production of CTD Steel bars in Goa under the Brand Name R R STEEL. In order to expand the organizational feather, the company ventured into the production of TMT Steel bars (Thermo Mechanically Treated). As a testimony of its product quality and brand image the company is accredited with the prestigious ISI 1786/2008 followed with the coveted international quality and environmental standards of ISO 9001:2008 (Quality Management System) and ISO 14001:2004 (Environmental Management System). Under the dynamic leadership of B. Gopala, B. Raghavendra., and Bhupal Brothers, the Group has made immense progress by venturing into other steel related projects, such as:
Karthik Inductions Ltd., Kundiam
Rukminirama Steel Rollings Pvt. Ltd., (Melting Division) Cuncollin.
Rukminirama Steel Rolling Pvt. Ltd., (Section Division) Cuncolim.
Rukminirama. Steel Rollings Pvt Ltd., (Pellet Division) Hospet.

In additional to it, Karthik Group started yet another plant 'Rukminirama Steel Rollings Pvt. Ltd'. (Pellet Division), at Vardapur village in Hagari Bommana Halli Taluk, Bellary district, Karnataka with a capacity of 0.4 million Tons Perannum which is about 28 Kms from Hospet.