Translate in:

Medium Carbon Silico Manganese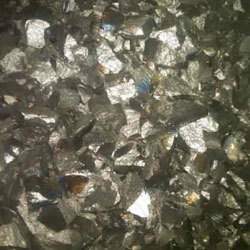 Medium Carbon Silico Manganese
With rich knowledge of ferrous alloys industry, we have established ourselves as a dependable Medium Carbon Silico Manganese manufacturer, supplier and exporter. These are prepared from 55-60% manganese, 22% silicone, 0.20-0.50% carbon, 0.1-0.20% phosphorous and 0.5% sulphur. Superior quality lime flux and coal are also fused in a furnace so as to form a melt rich in MnO. In the production process of Medium Carbon Silico Manganese, the silicon present in the alloys decline the MnO to manganese metal and make itself oxidized to the slag. Another method from which medium-carbon silicomanganese can be produced by us as per demands include refining molten high-carbon ferromanganese and then blowing the same with oxygen. This silico manganese production method oxidizes the carbon till the time its content in the metal reach less than 1.5 percent.
Medium Carbon Silico Manganese are extensively used in steel foundry, electrodes coating work and many other areas. Some qualities that make silico manganese of Karthik Alloys Limited extensively popular in the market are free from impurities, rustproof nature, durability and high non-ferrous alloy properties.

Technical Specification:
| | | | |
| --- | --- | --- | --- |
| | TYPE A | TYPE B | TYPE C |
| Manganese | 55% Min | 55% Min | 55% Min |
| Carbon | 0.5% Max | 0.5% Max | 0.5% Max |
| Silicon | 20% Min | 22% Min | 22% Min |
| Phosphorous | 0.20% Max | 0.15% Max | 0.1 % Max |
| Sulphur | 0.05% Max | 0.05% Max | 0.05% Max |